SPFT6PRO-SR
Protective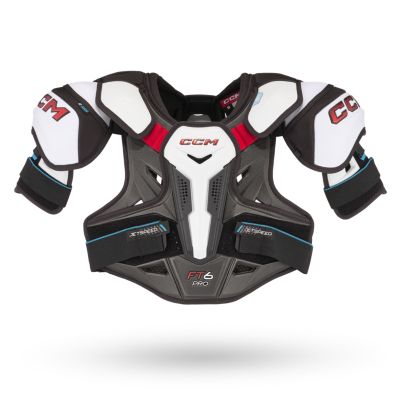 All new FT6 Pro Shoulder Pads
Experience the best of both worlds with the Jetspeed FT6 Pro shoulder pads. With new AER-TEC technology, this gear still offers maximum mobility while protecting you at all costs. And now, with the added unique benefits of thermoregulation, you can push yourself to new limits on the ice.
Revolutionary AER-TEC Thermoregulation
The AER-TEC thermoregulation system provides maximum breathability by creating air gaps in the shoulder pads to allow cool air to enter and hot air to flow out. This will help keep you cool and dry all game long so you can reach peak performance.
How this will benefit you
The absorption, evaporation and ventilation of the gear allows the body's core temperature to cool quicker, helping you make faster, better decisions when it counts. See the difference between a player who wore protective gear with AER-TEC vs. a player without.
Maximum Mobility
The FT6 Pro shoulder pads have been carefully crafted so that they can move seamlessly with the rest of your gear, especially with the hockey pants. The video showcases how these shoulder pads offer maximum mobility with the hockey pants when moving side to side.
Proven technologies
Proven technologies
AER-TEC
Thermo
regulation
The revolutionary AER-TEC Thermoregulation system is featured on the biceps as well as the front and back to offer max ventilation for cooling to help keep your body and gear light throughout the game. It is a low profile fit that sits close to the body and provides superior freedom of movement and maximum lightweight protection.
Flexmotion base
jacket
Pro-level protection and improved interaction with pants for maximum protection and mobility, with optimal ventilation in torso and back to help keep your body dry and cool.
AER-TEC
Suspension System
The all-new AER-TEC suspension system creates air gaps to provide maximum breathability and air intake to keep you cool and dry with optimal ventilation in the torso and back. It also provides Pro-level protection and improved interaction with pants for maximum protection and mobility.
VENTILATED
SPINE SHIELD
Compress molded HD foam articulated upper spine for an elite level of protection with added ventilation for breathability and an overall lightweight & comfortable fit that protects.
Specifications
ID

...........................................................................................................

Age Group

...........................................................................................................

Collection

...........................................................................................................

Shoulder caps

...........................................................................................................

Ultra-light U-foam shoulder caps

Torso

...........................................................................................................

Molded PE foam with large ventilation ports + AER-TEC suspension system + Flexmotion base jacket

Bicep

...........................................................................................................

HD-molded foam guards with large ventilation ports + AER-tec suspension system + length adjustment

Sternum/Spine

...........................................................................................................

Molded HD hybrid sternum shield with ventilation ports + anatomical molded PE spine

Clavicle

...........................................................................................................

Highly protective yet mobile clavicle coverage