HGFT6PRO-SR
Protective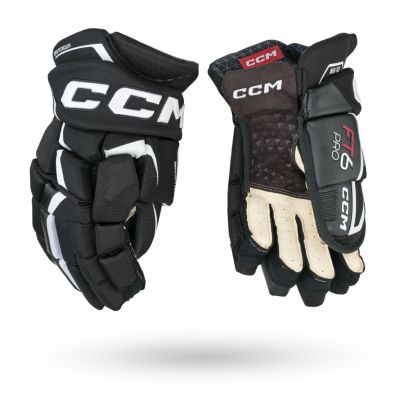 All new FT6 Pro Hockey Gloves
Experience the best of both worlds with the Jetspeed FT6 Pro hockey gloves. With new AER-TEC technology, this gear still offers maximum mobility while protecting you. And now, with the added unique benefits of thermoregulation, you can push yourself to new limits on the ice.
Revolutionary AER-TEC Thermoregulation
The AER-TEC thermoregulation system provides maximum breathability due to the ventilation provided inside of the glove, which allows cool air to enter and hot air to flow out. This will help keep your hands cool and dry all game long so you can reach peak performance.
How this will benefit you
The FT6 Pro gloves have AER-TEC technology which creates ventilation for max air intake to keep your hands cool. See the image results which compares a traditional hockey glove vs the FT6 Pro. The hands on the right show the results of cool air entering the glove and allowing for less perspiration and better performance.
Proven technologies
Proven technologies
AER-TEC
Thermo
regulation
The all new AER-TEC thermoregulation system allows maximum breathability and airflow. Durable, lightweight construction optimized for pro-level of play, with a new back roll design that follows a perfectly anatomical shape.
OPEN
FLEX CUFF
Short pre-angled open flexcuff + flofoam cushioning that allows for unrestricted wrist movements, flexibility and protection plus breathable protection
SENSALAST
PRO PALM
Sensalast pro palm: pro clarino base palm + sensalast reinforcement with embossed texture + treated with polygiene & odor crunch. Seamless palm-to-cuff transition inside & out for ultimate comfort, combined with a pro-feel palm providing an optimal interaction with your stick.
Specifications
ID

...........................................................................................................

Age Group

...........................................................................................................

Collection

...........................................................................................................

Construction

...........................................................................................................

AER-TEC thermoregulation system + pro-approved polyester + synthetic leather

Liner

...........................................................................................................

AER-TEC suspension system mesh liner treated with Polygiene & odour crunch

Fingers/Backhand

...........................................................................................................

Premium Zotefoam®& high-density PE foam + PE inserts + PU foam cushioning

Thumb

...........................................................................................................

Pro Flexthumb - from size 11"

Palm

...........................................................................................................

Sensalast palm + reinforcement with embossed texture + treated with Polygiene & odour crunch

Cuff

...........................................................................................................

Short pre-angled open Flexcuff + FLOFOAM cushioning